The ARIN Qualified Facilitator
by IPv4 Staff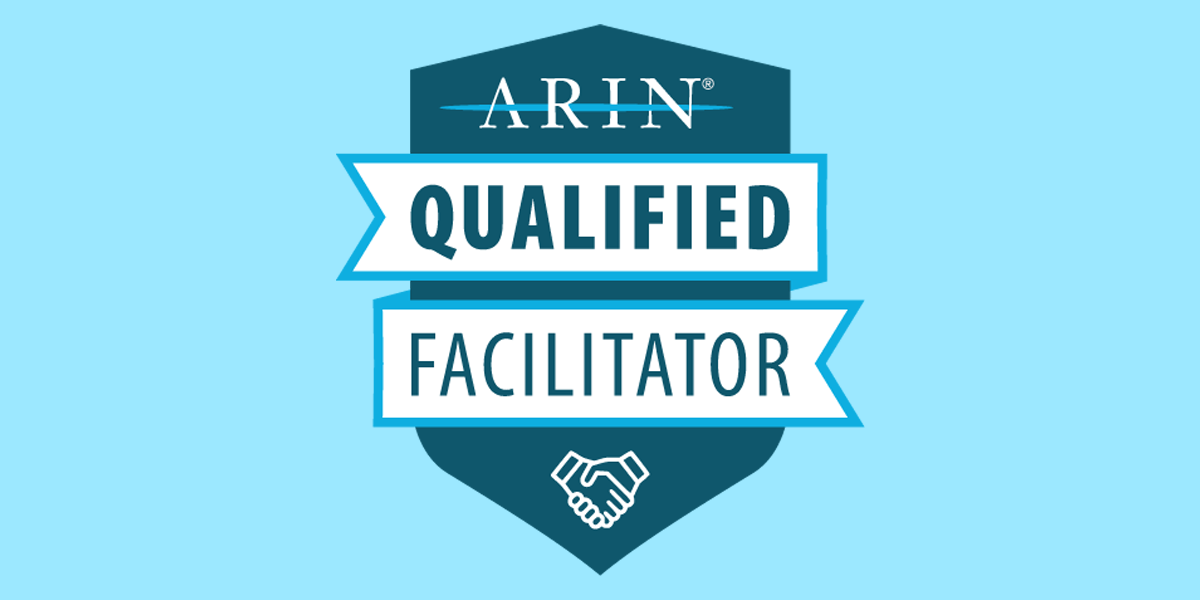 The American Registry for Internet Numbers (ARIN) is one of the five major regional RIRs responsible for managing the distribution of IP addresses. This includes IPv4, IPv6 and AS numbers. As the name implies, ARIN covers the North American region, including the US, Canada, and many Caribbean and North Atlantic islands.
In response to today's active market in IPv4 addresses, and the many and diverse buyers and sellers for these assets, ARIN has fielded many inquiries about the often-complex transfer process. In addition, it is among their core functions to assure legitimate, efficient transfers of IP addresses. So, in response to that need, the status of Qualified Facilitator was created.
As John Sweeting, Chief Customer Officer at ARIN, explains, "Buyers and sellers will be able to access our list of qualified facilitators, which should improve the overall customer experience and address concerns raised by community members about transfer support, as well as streamline the transfer process with ARIN Registration Services."
What Is an ARIN Qualified Facilitator?
ARIN created the Qualified Facilitator Program (QFP) to be "a resource for the community to assist in identifying Qualified Facilitators engaged in brokering the transfer of IPv4 or Autonomous System Number (ASN) resources in accordance with ARIN's Number Resource Policy."
Under the QFP program, a Qualified Facilitator (QF) is recognized by ARIN as a uniquely trustworthy intermediary capable of assisting in and facilitating the smooth transfer of IPv4 addresses between entities—whether that means buying orsellingddresses. A Qualified Facilitator can provide services like:
Offering guidance on transfer procedures
Ensuring complete adherence to ARIN policies and regulations
Mitigating any legal or regulatory risks associated with IPv4 address transfers
In short, the ARIN QF status signals an organization's competence, trustworthiness, and adherence to best practices and ethical standards in the management of IPv4 resources. In the first month the QFP was available, only four organizations have received this accreditation, which only serves to underscore the rigorous requirements and high standards imposed by ARIN.
An ARIN Qualified Facilitator can play an essential role in ensuring the stability and integrity of the IPv4 marketplace. They can help foster an environment of trust and transparency, making it easier and safer for organizations to navigate the often-complex process of IPv4 address transfers.
Why Use a Qualified Facilitator?
Using a Qualified Facilitator may be a good option for:
Organizations in need of IPv4 address space but unsure of where to get it
Organizations with unused IPv4 address space unsure of the organization to whom they wish to transfer it
Organizations who may need assistance understanding and navigating the resource transfer process
When you work with a Qualified Facilitator, you can operate confidently knowing that you have a trustworthy and experienced IPv4 brokers in your corner.
Advantages of partnering with a QF include:
Streamlining IPv4 Address Transfers
Historically, the IPv4 address transfer process could be a lengthy and complicated affair, especially if it was brokered by an underqualified facilitator.
From start to end, a QF like IPv4.Global can ensure that the entire transfer process is conducted with maximum efficiency. We have the expertise to handle the myriad technical complexities, providing clients with peace of mind and extra time to focus on their core business operations.
By entrusting IPv4 address transfers to a Qualified Facilitator, clients can benefit from a smooth, efficient, and compliant process bespoke to their unique needs and requirements.
Ensuring IPv4 Compliance and Policy Adherence
Additionally, it's important to note that ARIN has stringent transfer requirements. Compliance with these rules is essential for ensuring a smooth and legally-binding transfer of IPv4 resources.
As a requirement of the status, a Qualified Facilitator must be familiar with ARIN's rules and regulations. They must have completed the ARIN qualification process. (Note that awarding the qualification is based on an interview and review by General Counsewl and ARIN's Chief Customer Officer.) A QF's dedicated team ensures that all transfer procedures adhere to these regulations, and that all contractual obligations are met and transfer fees are paid, thereby minimizing the risk of legal or regulatory noncompliance, potential penalties, or delays in the transfer process.
Strengthening Trust and Transparency in IPv4 Transactions
A Qualified Facilitator can also pull back the curtain to provide total visibility over the entire transaction process. This includes:
Thorough due diligence – A QF conducts comprehensive vetting and verification to ensure the legitimacy and integrity of IPv4 transactions.
Transparent documentation and reporting – A QF maintains accurate and detailed records, to ensure transparency and accountability throughout the transfer process and to maintain a robust paper trail.
Educational resources and guidance – A QF offers expertisend guidance, empowering clients to make informed decisions and navigate the transfer process confidently.
Expert Guidance and Support
ARIN is in regular contact with Qualified Facilitators—whether it's sharing the newest updates or best practices, their mission is to ensure that QFs adhere to the most stringent and up-to-date standards.
This continued support and collaboration ensures that customers receive the assistance and guidance they require to confidently navigate the intricacies of IPv4 transfers while proactively addressing any concerns that might crop up.
Put simply, this dual support ensures that clients experience a streamlined transfer process with enhanced support at each step of the journey.
IPv4.Global—An ARIN Qualified Facilitator
IPv4 became an ARIN Qualified Facilitator in June 2023. As a QF, IPv4.Global provides clients with a reliable and transparent transfer experience.
With more than 60+ million addresses transferred, IPv4.Global already was the world's most trusted broker for appraising, selling, or leasing IPv4 blocks. And now that we've been named as a Qualified Facilitator, there can be no doubt about our commitment to excellence.