The Best Internet Connectivity Media
By Leo Vegoda
April 12, 2022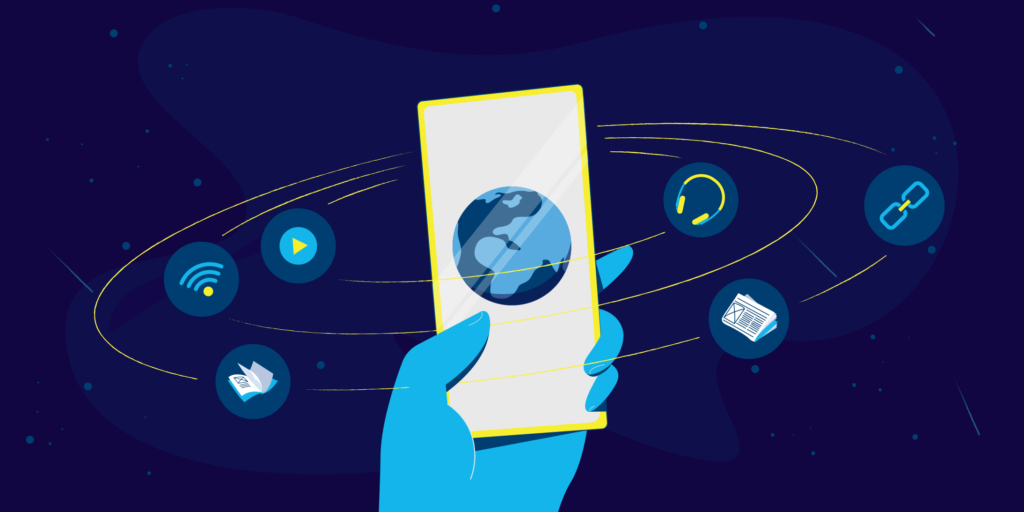 In the world of networking, internet connectivity is covered by the mass media either thinly or inaccurately. Or both. Most news outlets only publish reviews of consumer products. Ditto publications about personal computers and handheld devices. The internet's foundations get much less coverage. Only the technology news industry explores topics like server hardware and operating systems in ways that are useful to networking professionals.
Here are lists of the highest-quality web industry blogs and podcasts:
Best News Blogs on Internet Connectivity
Some technology news blogs and publications are more useful to serious network professionals than others.
IEEE's Spectrum is a veteran publication which covers technology news in topics as diverse as interplanetary communication, robotics, and publishes big reads on topics like the development of the RFC series.
The Register is another reliable source of industry news for themes ranging from mergers and acquisitions, to court reports and server operating system developments. It also looks closely at unique identifiers, like IP addresses and domain names. This is a particularly important area.

In addition, some regional industry publications, like South Africa's MyBroadband, have done excellent work covering recent events leading to criminal investigations and multiple lawsuits at AFRINIC.

More specialist coverage comes from industry itself, where community blogs give deeper (but less neutral) perspectives than traditional news organizations. One such example is CircleID, a tech blog that syndicates articles about everything from satellite internet access to DNSSEC measurement.
News blogs like DomainIncite and Domain Name Wire use transparency practices at organizations like ICANN, UDRP providers, and the court system to follow policy development and individual cases. They track them over an extended period to cast light on important processes and trends, as well as sharing interesting stories.
The RIRs and domain name industry also curate dedicated blogs. Some RIR articles are syndicated to appear on multiple blogs, but not all. The RIR blogs started as a place to publish articles about research and experiments but have grown in scope.

They often include articles about governance, community projects, and standards development. What makes them stand out is their ability to effectively summarize and communicate complex issues to a broad audience.

The RIR blogs worth looking into include AFRINIC, APNIC, ARIN, and RIPE NCC (RIPE Labs). LACNIC , is another such blog written for Spanish-speaking audiences, and translates well in several browsers with translation add-ons (especially with Chrome's translation extension).
Netnod, which provides critical infrastructure services including IXPs and Root DNS service, publishes blog posts that cover a wide range of topics on technical operations, protocols, and infrastructure.
CENTR, the European ccTLD organization, publishes valuable news articles about the DNS industry, including a regular set of statistics. They also cover broader internet issues like regular summaries of work going in the IETF, RIPE, and EU internet policy issues.
The Internet Governance Project, an academic project based at Georgia Tech, covers internet governance issues. They break down the intersection of economic and political forces relating to technologies including Internet Protocols, DNS, and blockchain.
Similarly, the Internet Society's blog covers many of these issues from the perspective of a mission-driven organization. Its extensive coverage can be sorted by region and topic.
Best News Podcasts on Internet Connectivity
Here are the most trusted and valuable tech news podcasts that cover internet and network-related topics:
The Ask Mr DNS podcast focuses mainly on DNS technology, and has aired since before 2008. It is hosted by Matt Larson, VP of Research at ICANN, and Cricken Liu, Chief DNS Architect and Senior Fellow at Infoblox. They answer questions from followers of the show and speak with guests about topics that dive into business processes related to DNS, like registration functions.
APNIC's Ping podcast, launched at the end of 2021, covers topics relating to internet measurement. Host Geoff Huston Chief Scientist at APNIC, along with his guests, discuss the intersection of market forces, technical standards, and operational reality.
Best Video Series on Internet Connectivity
Valuable connectivity news now (sometimes) comes via talking heads on screen:
NANOG TV was made for those who prefer to learn by watching. This video series, curated from nearly 30 years of conferences, uses keynotes and panels to illustrate their discussions and ideas. Each episode features hosts and guests from around the world. Like most Internet community organizations their full archive is public.
UKNOF posts full videos of all their conferences on their YouTube channel. Talks cover everything from internet history, to career growth, technology deployment and protocol development.
Similarly, LINX's Distinguished Speaker series gives a platform to experts in internet measurement, security, deployment, and protocol development. They also produce a podcast, LINXcast, which discusses interconnection- related telecoms, business issues and more.
Learn More About Reputation Management
Good advice on how to start and stay current regarding reputation management is available from Mailop, whose community publishes the best practices and hosts a mailing list for advice and discussion.
Link Listings
Industry News
DomainIncite – https://domainincite.com
Domain Name Wire – https://domainnamewire.com
IEEE Spectrum – https://spectrum.ieee.org/magazine/
The Internet Protocol Journal – https://ipj.dreamhosters.com
The Register – https://www.theregister.com
MyBroadband – https://mybroadband.co.za/news/
Industry Blogs
AFRINIC – https://afrinic.net/news
APNIC (main) – https://blog.apnic.net
APNIC (labs) – https://labs.apnic.net
ARIN – https://www.arin.net/blog/
CENTR – https://centr.org/news.html
RIPE NCC – https://labs.ripe.net
Internet Governance Project – https://www.internetgovernance.org
Internet Society – https://www.internetsociety.org/blog/
Internet News – https://www.internetnews.me
Interplanetary Network Special Interest Group – https://ipnsig.org
Netnod – https://www.netnod.se/blog
Company Blogs
Cloudflare – https://blog.cloudflare.com
ICANN – https://www.icann.org/en/blogs
Kentik – https://www.kentik.com/blog/
Podcasts
APNIC Ping – https://blog.apnic.net/2021/10/29/have-you-heard-apnic-has-a-new-podcast/
Ask Mr DNS – https://askmrdns.com
Economist Babbage (mainstream technology news) – https://podcasts.apple.com/us/podcast/babbage-from-the-economist/id508376907
LINXcast – https://www.linx.net/news-and-events/linxcast/
YouTube
NANOG TV – https://nanog.org/news-stories/nanog-tv/
UKNOF – https://www.youtube.com/user/UKNOFconf/videos
Academic
Journal of Cyber Policy – https://www.tandfonline.com/loi/rcyb20
Light Blue Touchpaper – https://www.lightbluetouchpaper.org