Buying IPv4 Addresses Online
by IPv4 Staff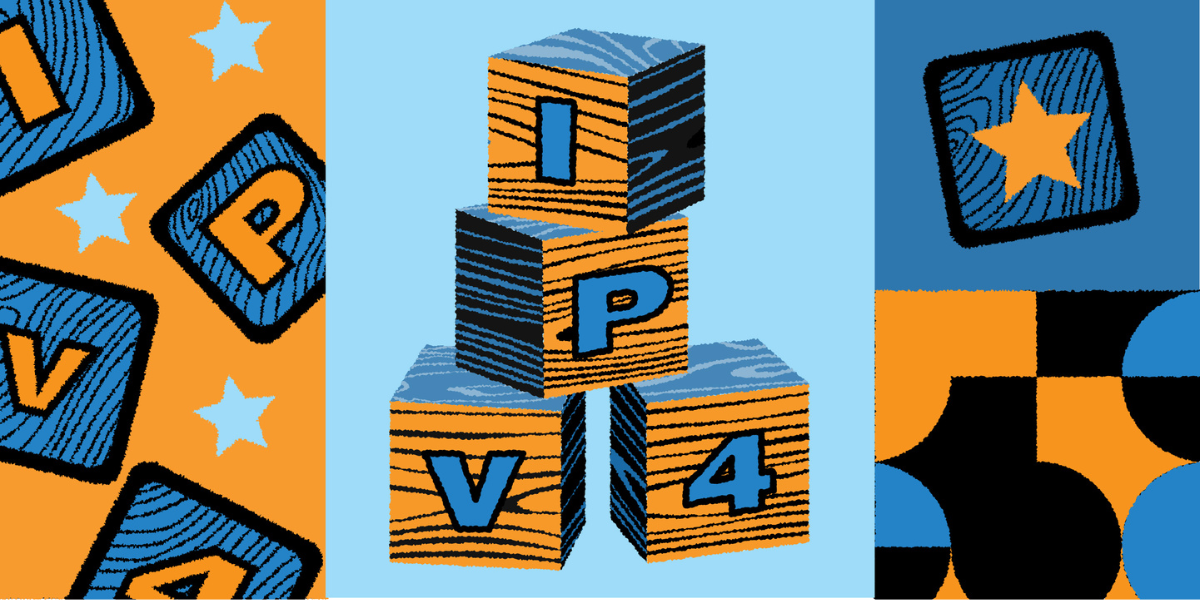 Businesses often buy IPv4 addresses to expand their connected-devices network, but don't know how to get started. One of the best and easiest ways to find IPv4 address blocks for purchase is through various brokers. The best of them has online marketplaces and/or auctions. Some will also manage a transaction based on a buyer's or seller's custom terms or when privacy is required. One should conduct some research on the broker of interest to ensure the provider is a registered, and therefore trusted, entity (e.g. IPv4.global).
Different purchase options exist, such as public auctions, private sales, "buy now," and leasing. Private sales usually involve negotiating with and buying a block of IPv4 addresses directly from a particular entity. Experienced brokers will find buyers, source supply and facilitate transfers. "Buy Now" options can be found for nearly any block size on some IPv4 marketplaces (again, e.g. IPv4.global). This feature saves the time and trouble of auction bidding. It also provides a fixed price that can be approved prior to the purchase. Leasing involves "renting" IPv4 addresses, which is usually the best fit for those with uncertain long-term needs and/or cash flow pressures. Sometimes buyers do so as an interim solution to growth needs while converting to IPv6.
But how do I buy IPv4 addresses in public auctions? What does it mean to own an IPv4 address after purchasing? How long does it take before ownership is transferred? Are there any other concerns? Let's take a closer look at some of the answers to these questions.
How to Buy IPv4 Addresses
As we mentioned in the previous section, the best way to find legitimate IPv4 address marketplace or auction is through an IPv4 address broker registered with the American Registry for Internet Numbers (ARIN) or equivalent entity (RIR) based on region. Companies may also have to register themselves as buyers with whichever broker they choose.
From there, one can browse the listings and different options the broker offers. Some marketplace and auction platforms conduct simultaneous auctions and sales. That is, one can "buy now" and avoid engaging with the auction or bid in an effort to win the addresses. Online markets of this kind often present their inventory of offerings this way: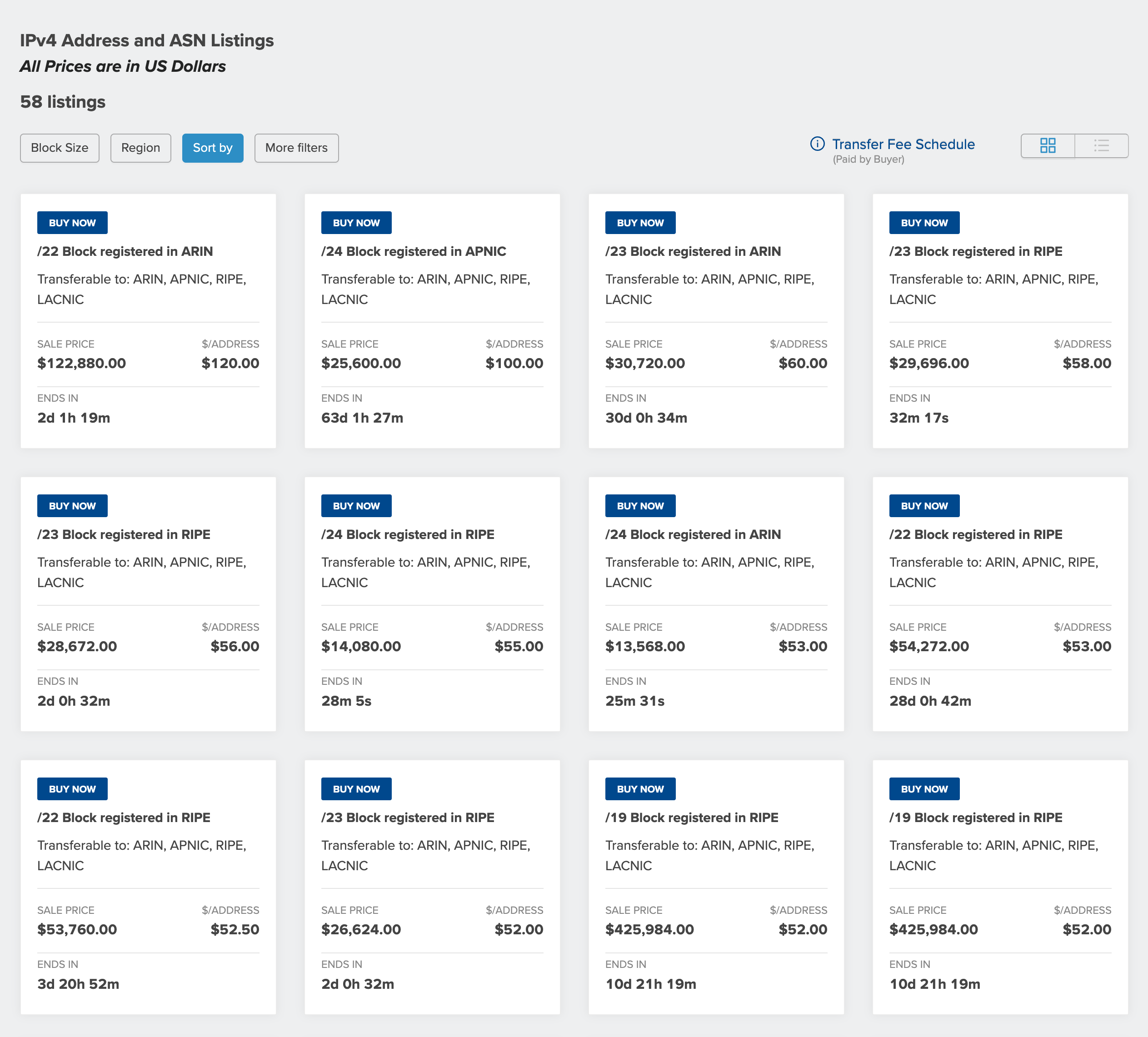 Image from IPv4.Global
This may look different depending on the broker, but functionality will likely be similar. Often, once a user has registered with a broker, access to detailed information on individual blocks becomes available. This information is often screened from public view.
A reputable broker will vet buyers and sellers prior to admitting them to their online marketplace. This assures everyone of legitimate offers to buy and available inventory being sold. What's more, confirmation of other business factors may be part of the registration process. In some cases, brokers will individually manage a transfer and facilitate communication between buyer and seller to make sure everyone is on the same page before a deal is finalized. Online, prices are generally shown to all registered users and one is free to browse for the best fit.
Do I Own My Purchased IPv4 Addresses?
Strictly speaking, after someone purchases an IPv4 address block, they are not the direct owner of this asset. Organizations like the Internet Assigned Numbers Authority (IANA) and the Internet Corporation for Assigned Names and Numbers (ICANN) can be thought of as the owners of all IP addresses, as they are the entities that create and distribute them to various regions of the world. So, what does this mean when someone wins an IPv4 address auction or buys an IPv4 address block from another company?
Essentially, the buyer is purchasing the registration rights of the IPv4 address block, i.e. their unique assignment to connected devices, which will be transferred to the buyer from the seller after the deal is given the ok by the appropriate Regional Internet Registry (RIR).
Which is to say, individual IP addresses aren't actually "owned." Instead, possession includes the right to a unique registration of each address in directories of addresses, worldwide. It's those directories that control data routing. "Ownership" amounts to the right to use that unique address and to receive data addressed to it.
All transfers of ownership must be approved by the RIR and they will allocate them accordingly after a sale has been confirmed. Basically, after a deal is concluded between a seller and a buyer, it's up to the RIR to re-assign these addresses in their systems so they acknowledge that the buying party and its devices are now using (or are entitled to use) the IPv4 addresses purchased. This process takes some time, and buyers will have to provide information to the RIR that involves transparency with how they will use the acquired IPv4 addresses alongside their current IP address assignments.
How Long Do I Have to Wait Before I Can Use My Purchased IPv4 Addresses?
The amount of time the transfer process takes varies depending on the situation. Buyers may take some steps for pre-approval, which will save them time during the transfer, but as a rule of thumb they can take anywhere between a few weeks to a few months, sometimes longer.
To learn more about the process of transfers, in RIPE and ARIN, consider these blogs:
Some brokers serve their clients by providing Transfer Analysts to smooth the transfer of IPv4 blocks to their new owners. Their expertise can assist in simplifying the closing process at ARIN, RIPE, APNIC and LACNIC.