Nutrition Labels for Broadband Services
by Leo Vegoda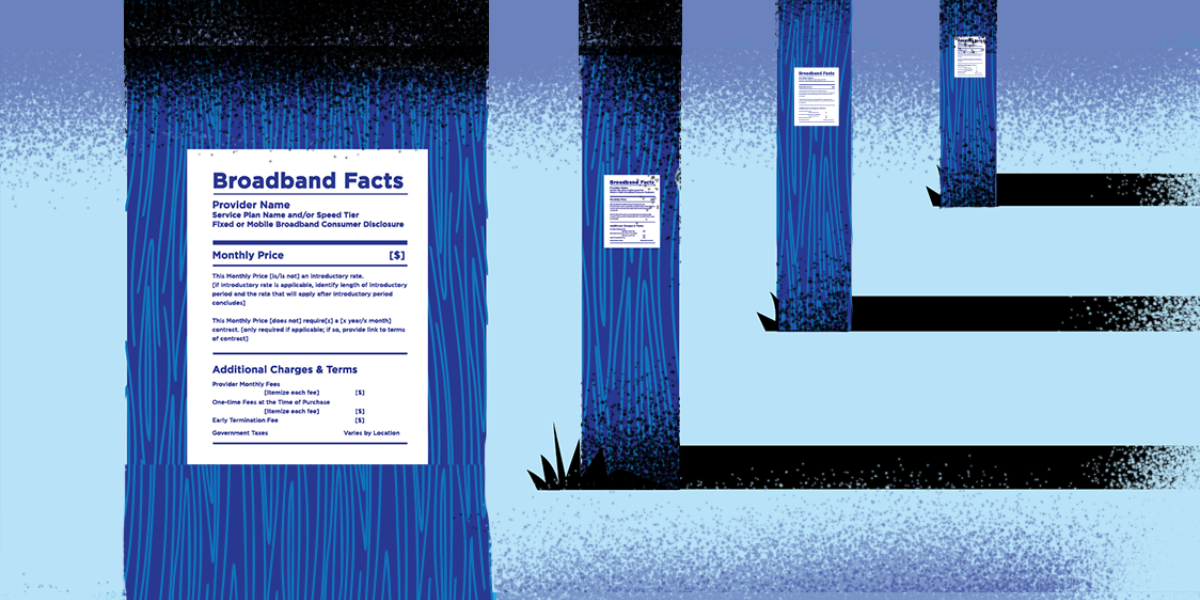 There are two sorts of information to inform buying decisions when choosing groceries. Consumers can compare prices per unit and nutritional information on a standardized label. This is helpful because supermarkets offer a range of brands for shoppers to choose from. There's often a market leader, a store brand, and a local or imported brand.
The Federal Communications Commission (FCC) is now heading down this path. New "Broadband Facts" labels will start appearing at the point of sale beginning in mid-2023. This is when larger providers have to share this information. Smaller providers have until the start of 2024 to prepare their labels.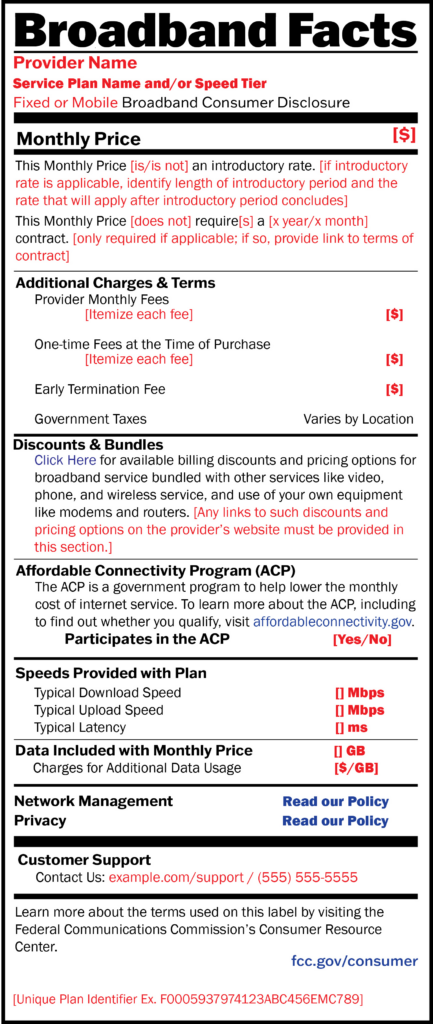 The FCC-formatted label.
Clear, standardized information on prices, speeds, and data allowances will help families choose a service based on price. But it's only useful when there is a meaningful choice. And consumers need to understand how broadband providers differ as well as their price.
The new labels are a good first step.
In large parts of the US there is limited competition between broadband providers. Cable companies hold regional monopolies. Phone companies' DSL services have struggled to keep up with the speeds provided by cable. Satellite services have historically been slow, expensive, and with high latency. This last is particularly important.
Latency is the time it takes for data to travel between the sender and the receiver. Latency depends on the path taken by the data. The speed of light in fiber optic cables is about a third of the speed of light in a vacuum. But the distance between a geostationary satellite and the Earth is about 22,000 miles. Anything sent through a satellite travels an extra 44,000 miles (up and back) and this adds about a quarter of a second. Data traveling through fiber from New York to San Francisco travels about three times faster than through a geostationary satellite.
Latency is not a problem when streaming music or video but it makes conversations and gaming harder.
But consumers, especially in rural areas, are starting to get more choice. Rural electricity co-ops are eligible for grants to fund broadband services. And new Low Earth Orbit satellite services, from companies like Starlink, can provide lower latency. This is because they are much closer to Earth, reducing the distance the data needs to travel.
How do broadband services differ?
Focusing on pricing is important because US broadband prices are relatively high. The International Telecom Union's (ITU) regularly compares broadband prices across the world. Its 2021 analysis shows that US consumers pay more than those in Europe. They found fixed line broadband services had an average US price of $54.42. It was just $36.05 in Italy, also a highly industrialized economy.
More competitive markets have lower prices. Ukraine has over 800 ISPs and the average price there was just $5.44.
Price is not the only important factor in making decisions. Consumers care about technical support, the online services they can use, and whether they can opt-in to child friendly filters.
Other ways broadband labeling helps
The new "Broadband Facts" label has a lot of important information. But it won't help consumers choose based on how they want to use the service.
Patrik Fältström is Technical Director and Head of Security at Netnod, a Swedish provider of critical internet infrastructure. In 2007 he presented a Swedish proposal for "color coding" internet services.
Its goal was to simplify making informed choices, so consumers can buy the service for their intended use. For instance, if they want to do video conferencing then they need low latency. But consumers shouldn't have to understand the technology. The providers should label their services with codes that show what they are good for.
This is like the Health Star Rating System food labels used on the front of packets in Australia and New Zealand.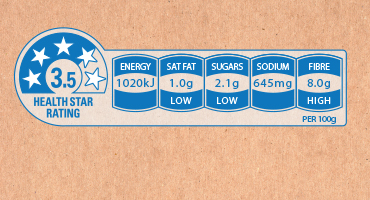 An example of a health star rating placed on packaged foods under an Australian Government initiative.
These labels tell consumers whether a product is high or low in each of five metrics. This puts real power into consumers' hands. They don't need to know how much sugar is a lot of sugar. They can rely on simple labels to help them select the products they want.
The full set of metrics is also available on the side or back of the pack. But the consumer can filter based on the front of pack labels. They don't have to compare between as many products.
Making pricing clearer to consumers is important. We can expect the FCC's new labels to help lower the cost of broadband services. When that is achieved, the next step will be to help consumers choose the kind of service that's right for them.
Families who need streaming services and web-filters for children could select between providers offering those options. While someone with a home office might need to upload large amounts of data and need a different set of options from their provider. Knowing what kind of service you're getting is important before signing the contract.
The FCC has taken an important step towards empowering consumers. There's more that can be done when this first step has improved the market,